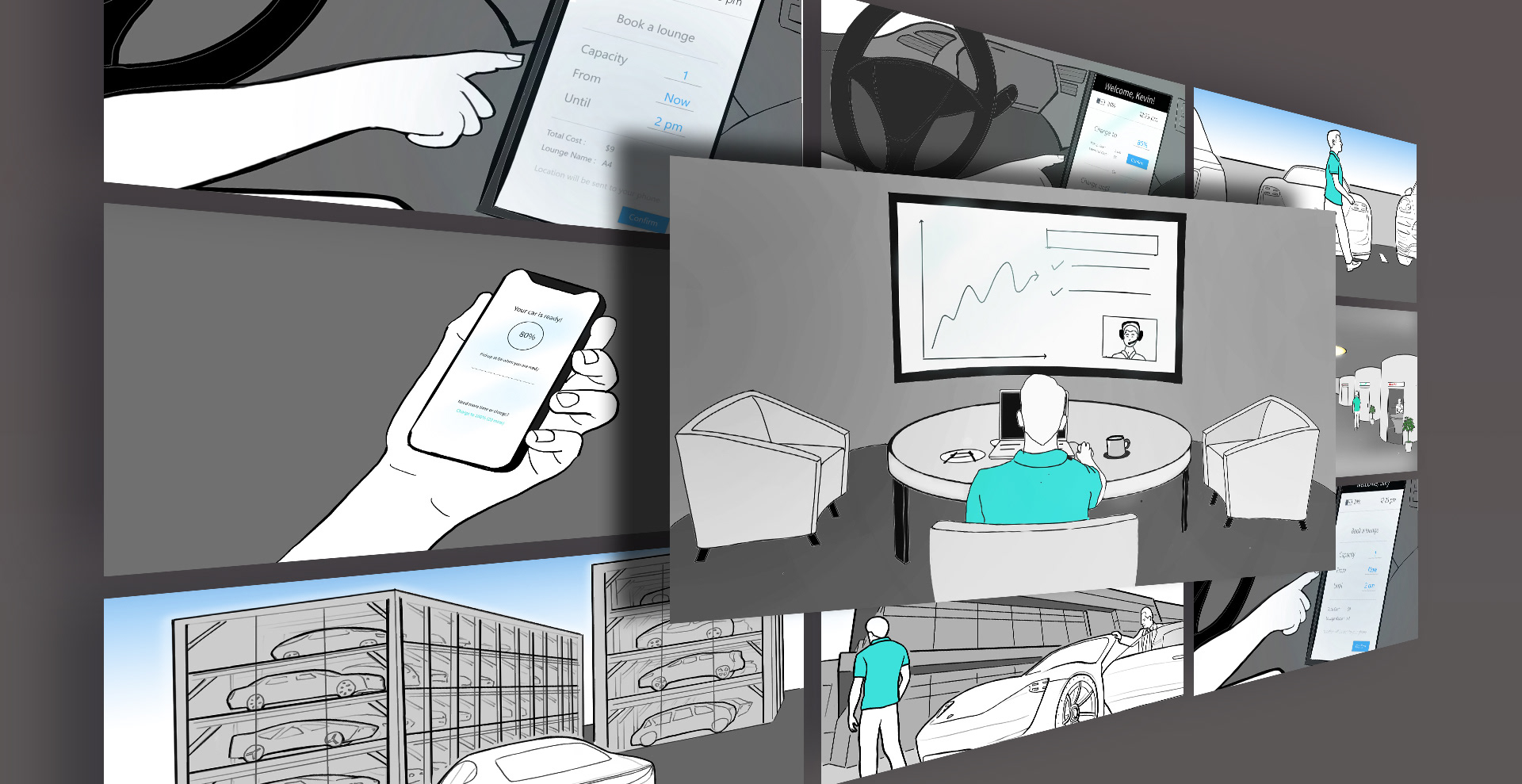 Team :
Thomas Clifton, Heydn Ericson, Edith Li, Akhil Oswal, Nishant Panchal, Noah Posner, Muchao Tang, Eric Thompson, Bradlyn Walker
Industry partners :
Porsche,NCR , RaceTrac
My Role :
Research, Stakeholder workshop facilitator (for  Empathy mapping, scenario building and ideating), Design and concept building, Storyboarding.
With the growing adoption of electric vehicles, infrastructure and chargepoint demands continue to grow. Use cases and consumer behavior/needs with regards to vehicle charging are still unclear. The need for public charging stations has both merits and unknowns. This project aimed to bring three industry leaders together to gain insights to the ecosystem of potential stakeholders for the future of electric vehicle charging.
Our initial efforts were to perform a quick market research on EV use and charging habits. We did this through online searches, reading car ownership forums, EV charging companies' documentation and reading whitepapers on charging behaviors.
We then created an affinity map to identify larger trends in behaviors.
Below are the major findings from this stage : 
BACKGROUND RESEARCH FINDINGS
Charging Times
EV owners often have to plan and prepare to charge their vehicles, taking time out of their day to do so. This costs time, money, and mental resources as users consciously have to plan when and where they're going to charge their cars away from home. Mitigating this problem is key and opens the door for customer engagement.
User Charging Behavior
90% of charging is done at home, with much of the remainder done at the workplace on Level 2 Electric Vehicle Supply Equipment (EVSE). If users are taking long road trips, much of the route is dictated by available charging locations.
Convenience Store
Convenience stores and fueling stations are almost always colocated. From our research, we saw that customers rate the friendliness of the staff and the cleanliness of the store as important parts of the c-store experience. Some of the most common purchases in the stores are fast food, drinks and cigarettes. Recently, there has been an effort to get customers to see the convenience store as a place to stay for a while, rather than a grab-and-go location.
Dealership Waiting Area
Dealership waiting areas share some similar traits with convenience stores, such as the ability to purchase small items in the waiting area, free Wi-Fi and available food and drink. These areas also often have reading material, comfortable seating, and views of the maintenance bay to mitigate the long times owners often have to spend waiting for their car.
Hybrid Store
Another emerging model is the hybrid store. These stores combine offline and online shopping services to provide greater convenience for customers. For example, Walmart can let its customers shop groceries online and pickup offline. It also provides preferential areas in their parking lot for pickup.
Charging StationS
 Level 1 and level 2 charging can be installed in residential garages. Level 1 charge does not require significant effort to install and charging overnight will provide enough charge for the daily work commute. A level 2 charger is more expensive to install in the home, but charges a vehicle in a third of the time of a level 1 charger.
Cost models for charging
There are four major models for charging for electric vehicles: Time, power usage, session, and membership.
WAITING
There are many physical attributes that can have a substantial impact on the feelings and impressions of customers. These attributes, from a building's natural lighting to the furniture, play an important role in any customer experience.
Digital Infrastructure
Future systems will encourage a continuous flow building a smooth purchasing experience. Technologies that leverage computational vision (similar to that of the Amazon Go store) and systems which allow for purchases to be made from cars are the new cashless transaction methods which should be considered.
Based on our online findings, we created a questionnaire to get deeper insights into specific charging behaviors. Specifically, we wanted to identify :
1. How users decide where to charge their cars and why
2. How often they charge outside v/s at home and under what circumstances
3. What users do while their cars are charging
4. What typical persona traits EV owners currently have
We then conducted a survey and conducted semi-structured interviews with EV Owners to get more insight into their charging behaviors. Here are the takeaways from that research :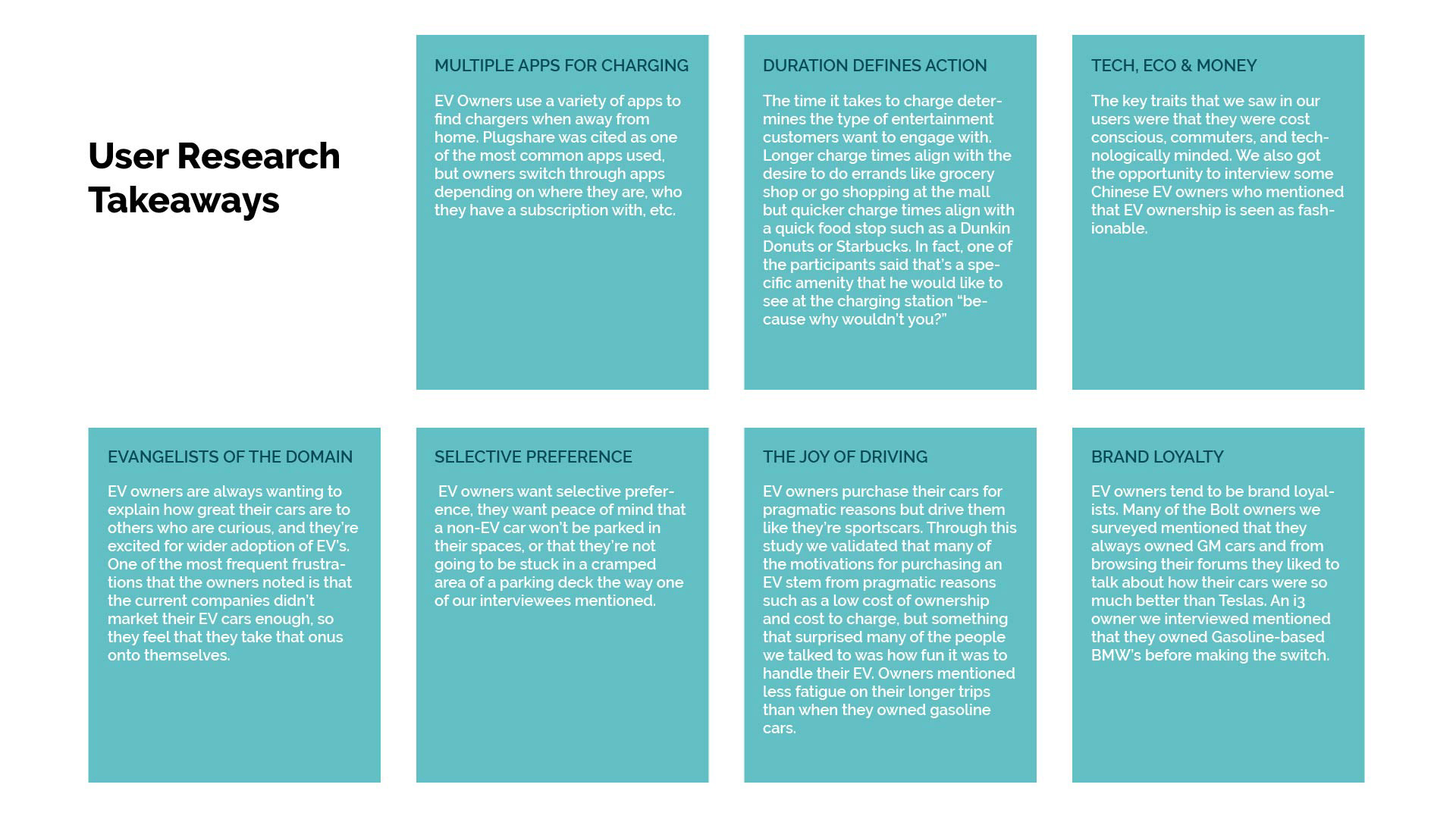 PERSONA DEVELOPMENT PROCESS
We created personas to reflect the different user groups who would be drivers of EVs that require charging in the future. 
I led the persona creation process. It was slightly challenging in order to not just cover personas for existing EV car owners, but also propose future use-cases for EVs, and extend to market segments that will soon become users of the system.
Our three personas are based on use-case and not demographic or market segment, because all three of our scenarios could be experienced by any of our personas. These are not competing concepts, but rather they can be different and complementary embodiments of the same brand. Different forms of service are usually based on time and location. 
Kevin the Weekend Shopper
Kevin typically uses MARTA to commute to his job at a Midtown law firm. He owns a car and uses it
for almost every other instance of travel, primarily over the weekend for leisure and shopping.
He lives with his wife and two children. 
• Kevin appreciates multi-tasking, and the ability to manage multiple things at once.
• He feels that charging is a hassle and wishes it could happen easily and in the background.
• He is pleased when he gets benefits for shopping where he charges.
Ron the Highway Traveler
Ron travels between structural engineering firms and various project sites around the Atlanta
Metropolitan area. He often spends a lot of time on the road and is constantly making calls to
different site managers to coordinate projects. Ron is married with one child who recently graduated
from college. He shares his vehicle with his family.
• Ron is always on the go, and likes to always have his car charged. He charges wherever he can, but not always to full.
• Not having to disrupt his work flow while on the road is important. Holding conversations in a rest stop is not ideal because of the noise and there are at times, privacy concerns.
• Although he is not a patron inside of the rest stop should not preclude him from the same excellent service outside. 
Sally, the Urban Commuter
Sally lives in Smyrna with her boyfriend and dog. She travels to Buckhead everyday for work at an
apartment complex front office. Because of traffic into the city, her commute typically takes longer
than it should and that does bother her.
• She doesn't have a home charger, so it bothers her to have to charge her EV frequently
• She is anxious about rush hour, not sure if the remaining battery together with the traffic condition next morning could let her make it to work
• She wants to have an option to charge even in traffic, because of a lack of time for charging when she is
running out of battery on her way to work.
EMPATHY MAPPING
Following our midpoint presentation, we collaborated with our partners for two design exercises. The goal for these exercises were twofold. First, we wanted to use this opportunity to further understand the preexisting concepts of EV owners held by our partners. Second, we wanted to leverage the collective brainpower in the room to come up with a number of different experiences that an EV owner might encounter. This was in hopes to find common patterns to inform the direction of the subsequent user research.
I facilitated two activities during the workshop session : One for empathy mapping and the other for unexpected scenario building for EV charging.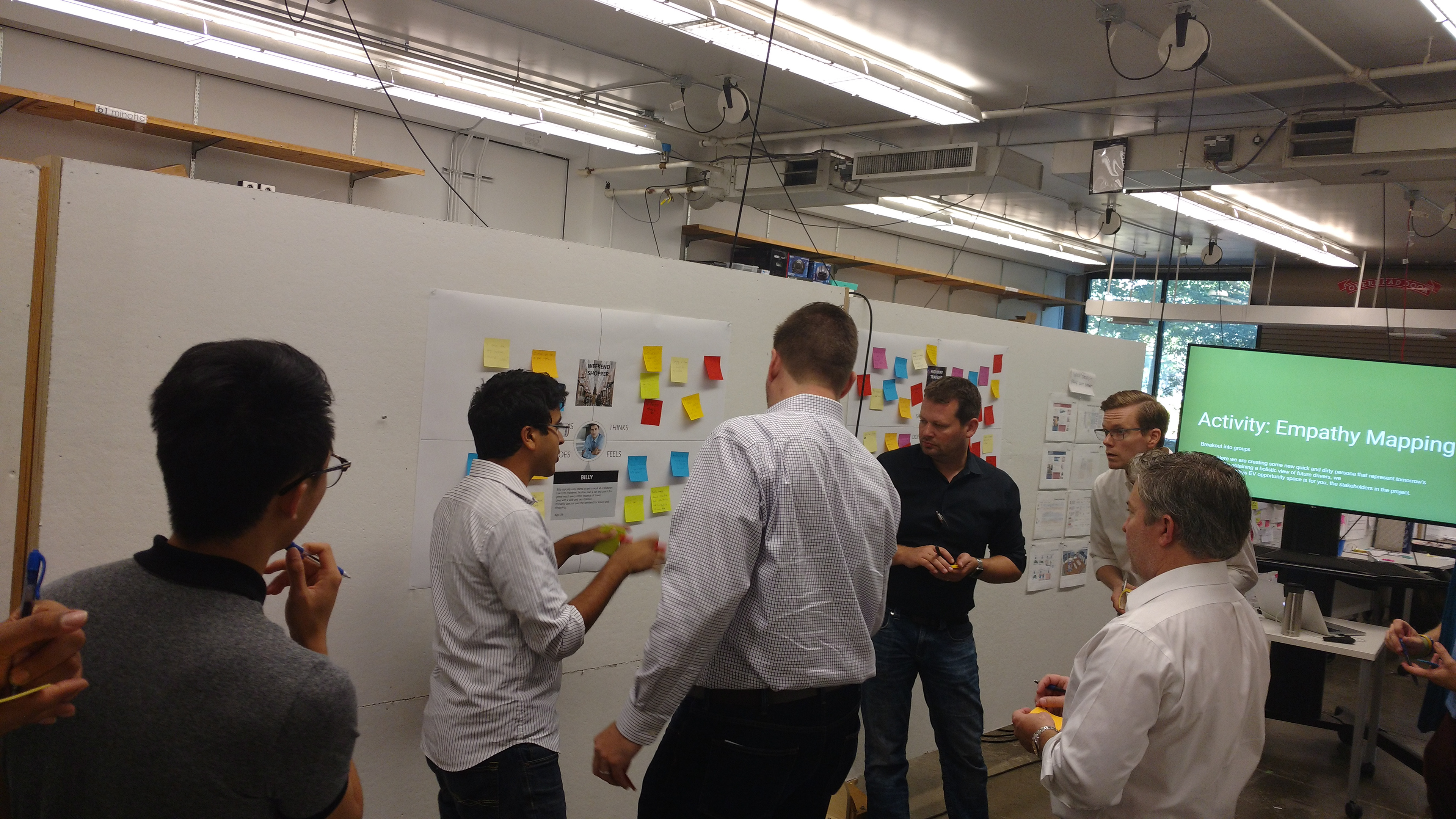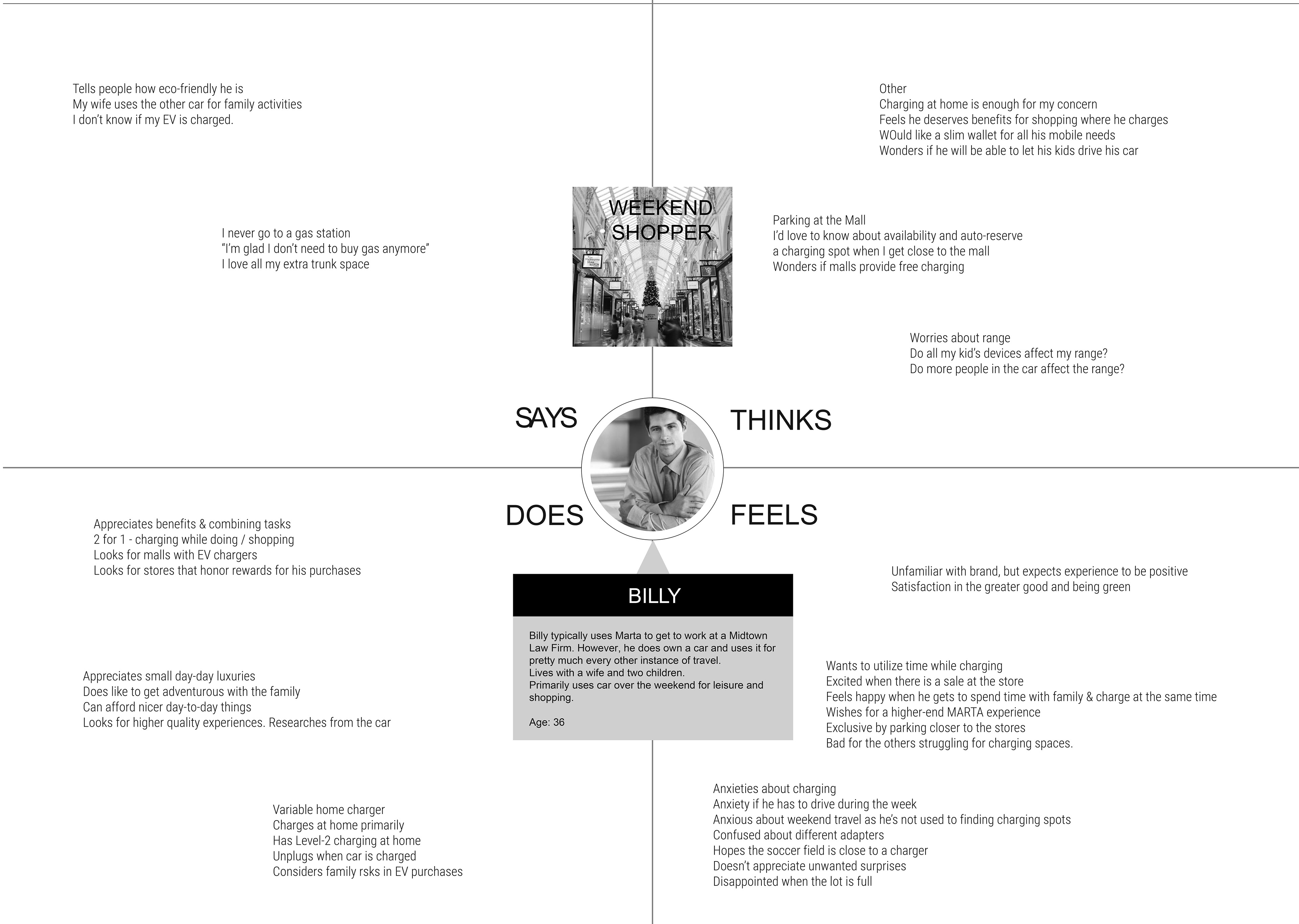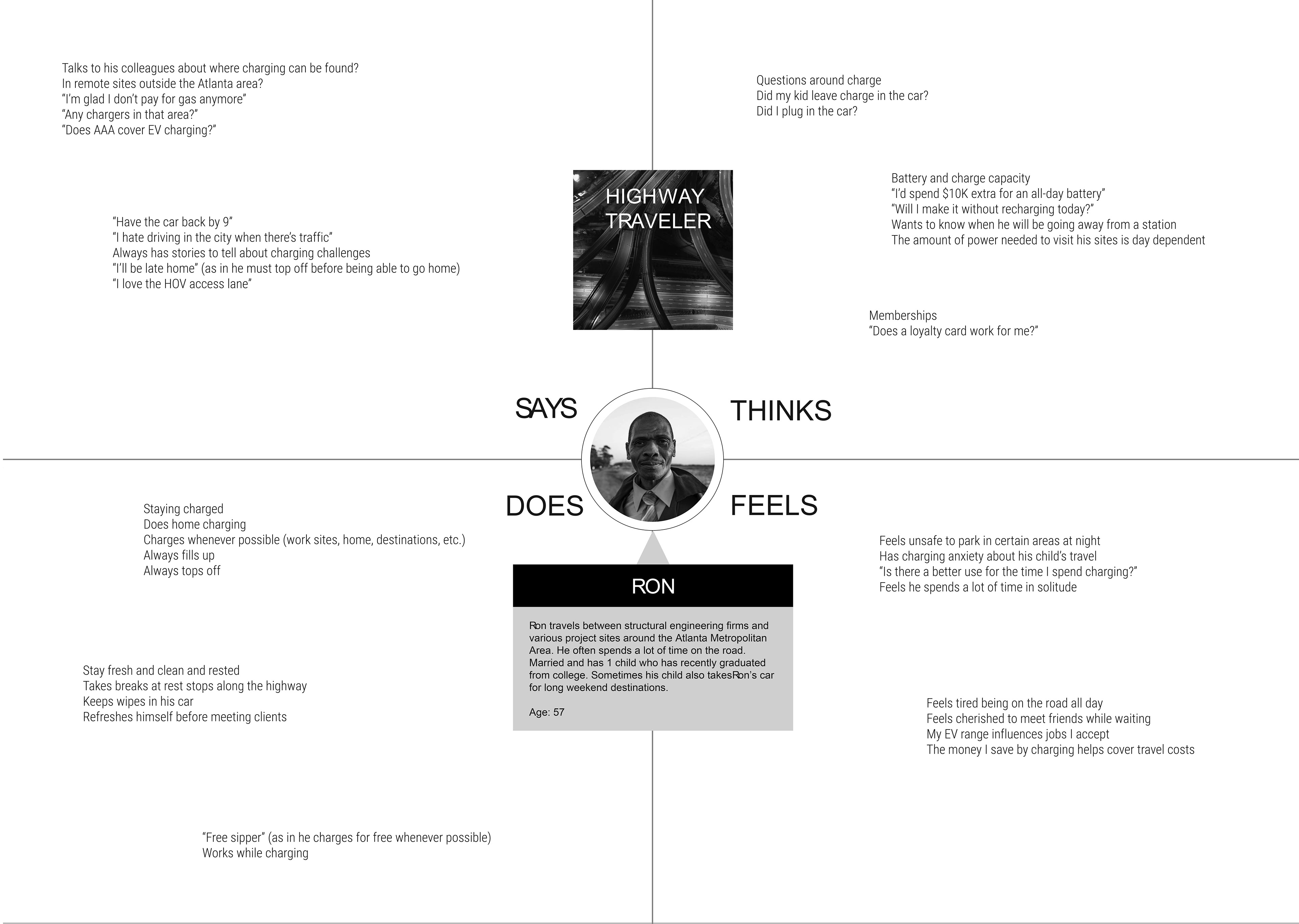 Based on our background research, user research and stakeholder meetings, we went through an affinity mapping exercise to identify opportunity areas for innovation.
There are several different avenues for EV charging, which create create the possibility of multiple business opportunities.
1) A charging duration ranging from twenty minutes to four hours creates huge opportunities for customer engagement, with different time frames in different locations.

2) Within urban locations, a service could exist in different modalities - that is, larger destinations with charging as-a-service, smaller locations with convenient and quick service, and emergency charging assistance.

3) Many of our participants reported being frustrated by having to use multiple apps to locate charging stations. We envision a unified experience, one which also accounts for route, battery level, and any connected accounts.
We started creating ideas and concepts to test with our stakeholders,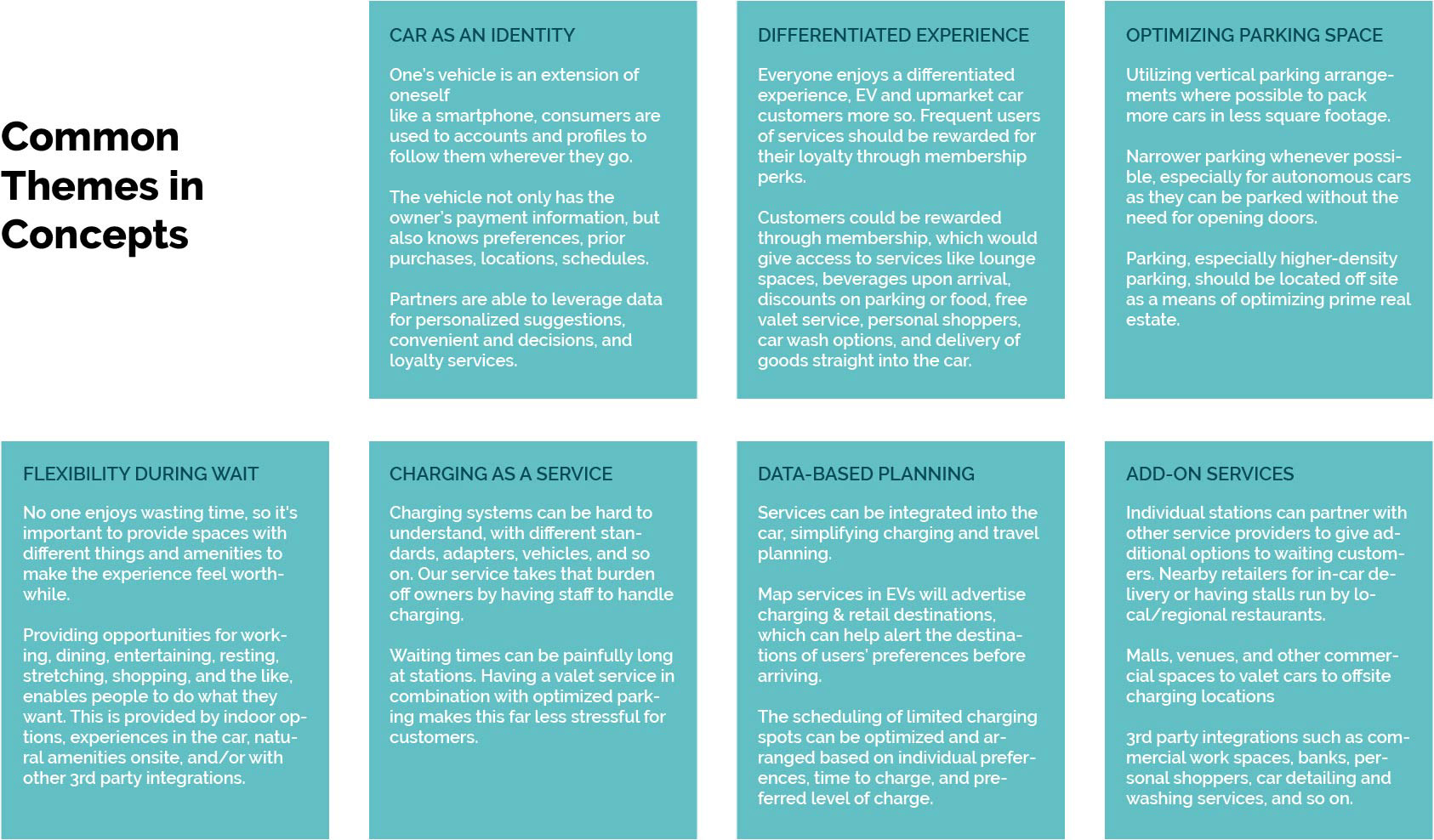 The Hub is an urban destination that works as a multi-functional flex space for EV chargers with access to convenience shopping, dynamic workspaces, dining, and additional services. It is specifically intended for densely populated urban areas with high traffic and prime parking real estate. Hub is designed for people to spend thirty minutes to upwards of two hours. A valet service allows for a friction-free charging experience, where users can request charging based on battery percentage or duration. After picking up the car, the valet drives it to a multi-level charging location, where cars are organized according to time. The station may be located a small distance away in order to reduce real estate cost.

Hub hosts multiple dining options, open public seating, co-working spaces, as well as convenience items and snacks. It also offers small, reserve-able lounges that can be used as cross-functional spaces for privacy, work, conferencing, teleconferencing, and add-on partner services. People can teleconference in privacy and even shop online, for instance having clothes from adjacent retailers delivered to the lounge for trying on or even have them delivered straight into their cars, waiting for them upon pickup.
STORYBOARD : 
1. Kevin arrives with 20% battery remaining. RaceTrac Hub's system recognizes Kevin and suggests various charging options. He chooses to charge up to 80% and is notified that the pickup will be ready in two hours.
2. Also from his vehicle's interface, Kevin chooses to reserve a private lounge for an important conference call.
3. He completes his order, steps out from his vehicle, and is greeted by a friendly RaceTrac Hub valet.  
4. Kevin leaves his car and walks into the RaceTrac Hub.  The valet is automatically granted access to the car without the need for Kevin to pass along his keys.
5. The valet drives the car to the nearby stacked charging location and sets it to charge to 80%.
6. Kevin walks through the store to find his reserved lounge. Along the way, he picks up a coffee and croissant and is able to charge it to his RaceTrac Hub membership account.
7. After completing his conference, he finishes his coffee and croissant while speaking with his financial advisor before his two hours is up.
8. Kevin gets a notification letting him know his car is ready. He is provided the option to charge completely to 100%, but declines and chooses to stick with the original plan.
9. Kevin picks up his charged, cleaned car. He is happy to have made full use of his time while receiving a convenient, worry-free charge for the upcoming week.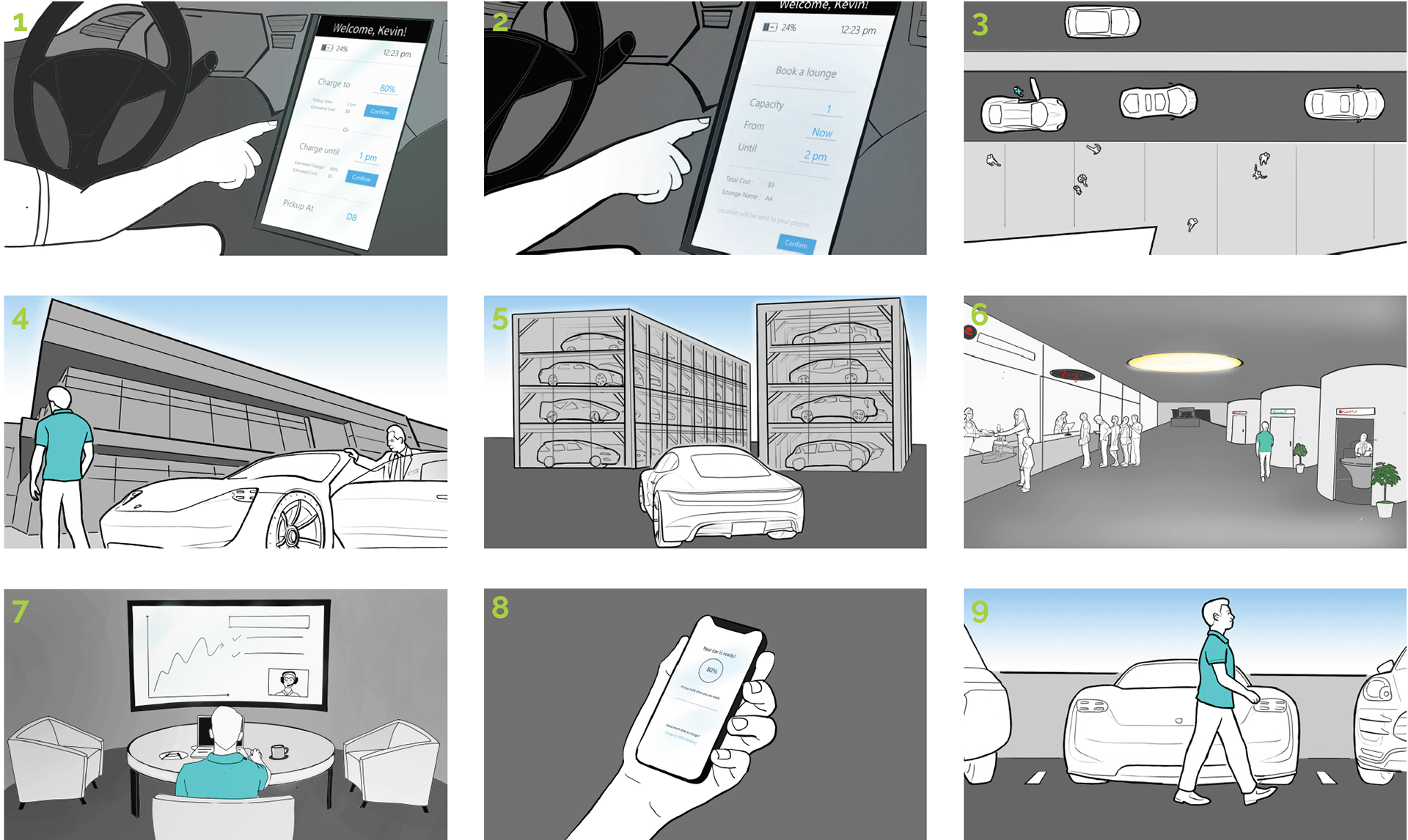 CONCEPT 2 : EV CHARGING++ SERVICE
The in-car "Charging" experience is very important for EV owners. The seamless integration of ambient technology assists the charge point providers with creating an environment that feels individually curated, while finding new avenues for food sales. The EV charging station also presents the opportunity for a mini-merchandising points of sale to communicate to the staff inside.

With more and more consumers having the expectation that their transactions and services take less and less time, the "now economy" is creating a environment that merchants must meet or exceed. The dichotomy of having a quick and frictionless experience becomes juxtaposed to the future of EV charging as this is a time consuming experience that also requires users to find stations that cater to the type of car charger. In this scenario, communication becomes key to delivering the correct experience, and building brand loyalty. An EV station should present reliable information to the driver such as what types of chargers it has and what the availability is. The future EV station also needs to account for new user behaviors, such as staying inside of their vehicle while charging and providing an equal level of service to this segment of consumers.
STORYBOARD : 
1. Ron is travelling in the high-way as usual, and the car notifies him that he has 30% of battery and has a phone call scheduled in 20 minutes, and there is a small station 10 min ahead.
2. He stops at a small station for a quick refill (Level 3).
3. EV automatically configured to work mode and set up the phone call.
4. As he sits in his vehicle, a digital handshake occurs providing a profile to the preferences of the driver and patrons.
5. The rest stop recognizes his drink preference and provides options for Ron to choose. He decides on coffee and a hot sandwich.
6. Ron continues his conference call, and his purchase is brought to him, without having to leave his car.
7. Ron eats, finishes his call and goes back to his way.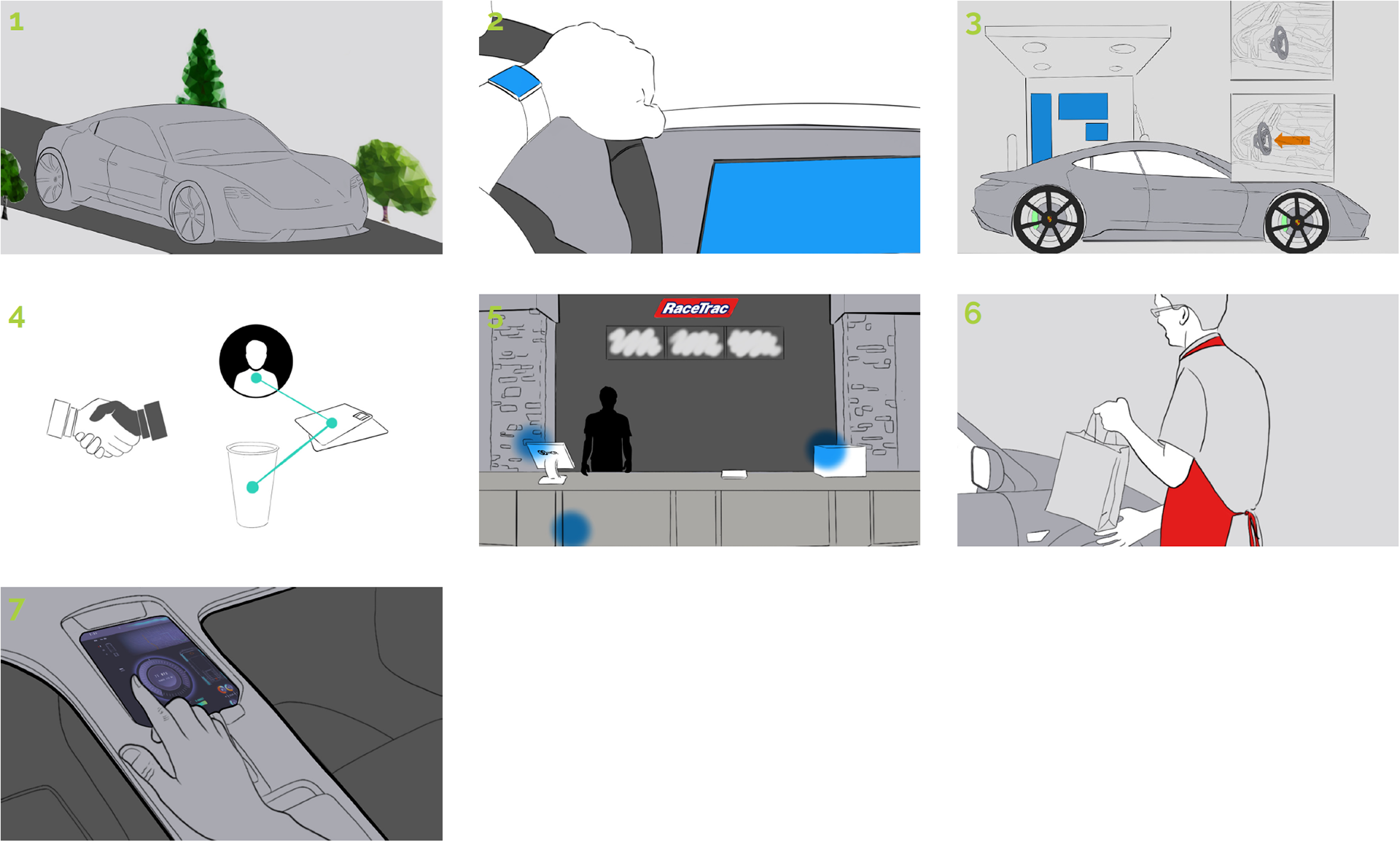 CONCEPT 3: POWER UP EN ROUTE
RaceTrac PowerUp is an emergency service for a rentable power bank for EVs. Multiple RaceTrac locations could store and charge power bank units that users can borrow when their battery runs low. The power bank is a small unit that fits into the trunk of an EV, and connects to the charging circuit. A 10 kWh pack can provide enough charge for about 20 miles of travel, allowing the user to safely get to their destinations, while powering up along the way. The charging system for the power banks is proprietary to RaceTrac to avoid mishandling and theft. At the end of use, the user returns the power bank to any convenient RaceTrac location where they are recharged for the next use.

PowerUp can be associated with a membership model that allows users to reserve battery packs in advance, and have them installed in their car without much wait. It also provides an opportunity for RaceTrac to sell additional products and services to the customer. The service ensures two trips to RaceTrac locations, along with a brief waiting period while they get the pack installed and returned. Customers can browse the store or even pre-order items and get them delivered straight to the trunk.
STORYBOARD : 
1. Sally arrives late at her apartment and unfortunately all the EV chargers are taken, so she will have to risk waiting to charge at work the following morning.
2. Sally rushes to work, hoping that she will have enough range to make it in time.
3. Gridlock is far worse than she anticipated, and the stop and go traffic has drained her battery to the point she is at risk of needing to pull over.
4. Her in-car interface notifies her that a RaceTrac three minutes off her route has a PowerUp battery bank, which allow her to be able to make it to work.
5. The RaceTrac receives notification of her PowerUp reservation and staff prepare a fully charged unit for her to pick up.
6. Sally arrives at the RaceTrac with only a few miles of range remaining.
7. RaceTrac staff bring Sally the PowerUp and connect it to the special outlet in her trunk.
8. With a very needed boost, Sally makes it to work precisely on time. She is able to charge her battery for the remainder of the workday.
9. On her way home, Sally drops off the PowerUp at another RaceTrac along her route.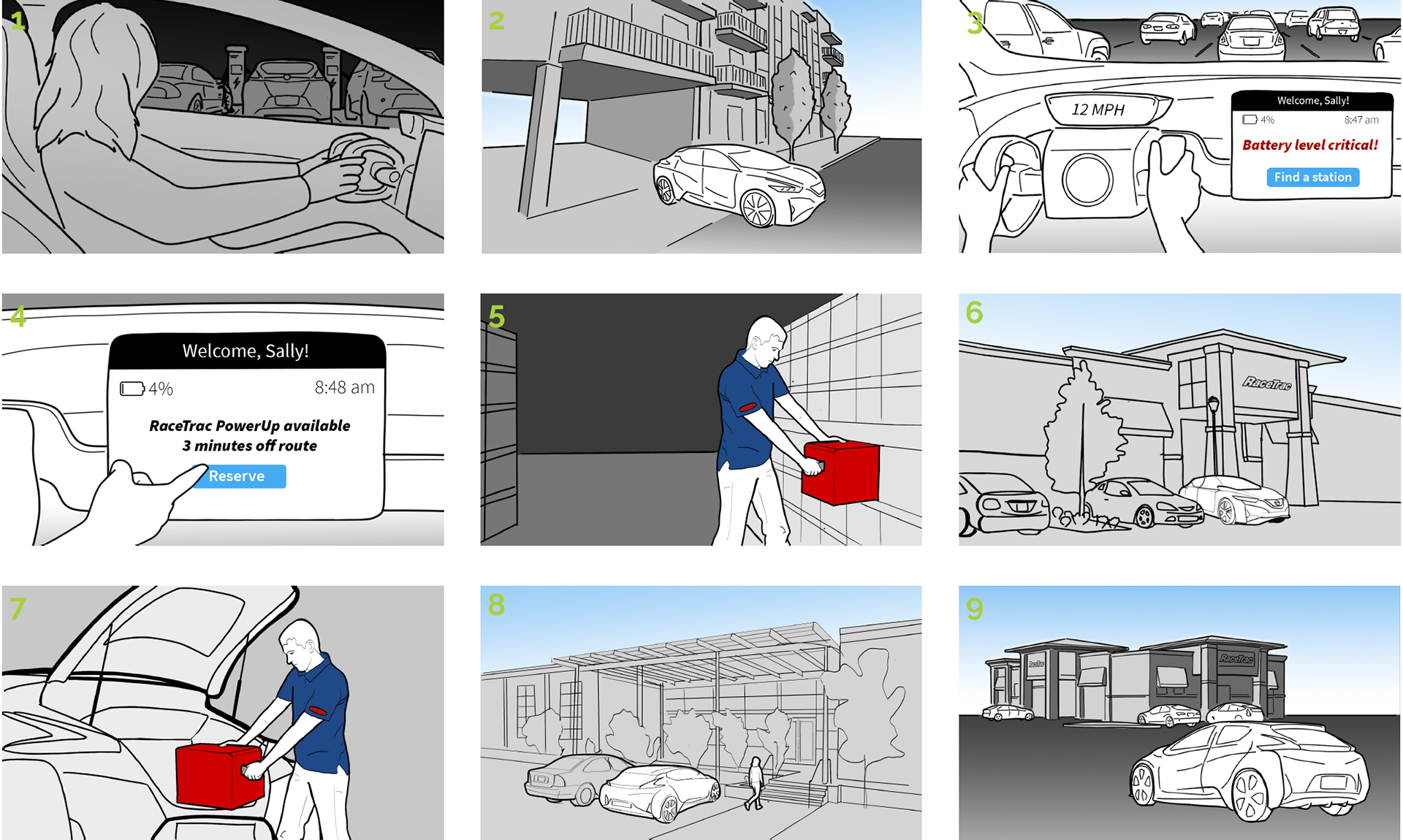 This project was a valuable opportunity to understand more about the electric vehicle charging experience and improve upon existing resources with future EV owners in mind. Each member of this project brought their strengths and their desire to learn more to this project in unexpected and novel ways. It was a fun challenge to consider all of the resources each of the stakeholders brought to the table when designing these concepts for new and potential customers.

Being disruptive and achieving these goals is about research: talking to the people, understanding their perspectives, and conceptualizing solutions both for today and the future. Depending on further stakeholder feedback, these concepts could each be expanded or folded into one systemic concept. Each concept stresses convenience across contexts, with many touchpoints in this new customer experience. There are also aspects of these concepts we see as viable in the face of emerging technologies such as automated vehicles or mobility as a service such as the modular aspects of The Hub, or the enhancement of car-based waiting in Know-Service).